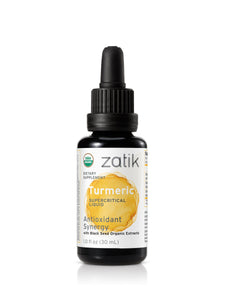 Certified Organic
Supercritical Liquid
Unrefined
Turmeric Supercritical Liquid
Regular price $26.00 Sale
SUPERCRITICAL LIQUID
DIETARY SUPPLEMENT
Zatik delivers premium quality supercritical USDA Certified Organic extracts and oils. This herbal blend is highly prized for its high nutrient content and it has been traditionally used in to maintain good health.* Modern research has identified antioxidants in both Black Seed and Turmeric herbs.
CO2 – SUPERCRITCAL EXTRACTION METHOD
Carbon dioxide (CO2) is an odorless inert gas, trace component of the atmosphere and a natural metabolite of living organisms. Like water, supercritical CO2 under the high pressure and room (ambient) temperature is a safe solvent and leaves no chemical residue after the plant undergoes the extraction process. It is a modern extraction media to replace conventional chemical solvents and high temperature steam distillation. We use CO2 from volcanic origin for capturing ultra-concentrated plant extracts with wide spectrum of essential nutrients.
Free from chemical solvents
Free from heavy metal traces
Free from microbial counts (moisture free)
Free from preservative, allergens, moisture, sugar or protein
High quality and high purity extract components extracted out of the plant material
Outstanding drug to CO2 extract ratio providing concentrated bioactive nutrients
In supplements delivers high bioactive lipophilic (lipid/oil liking) health benefiting components
Allows being sterile and without need of conservation with proven long shelf life stability
Good efficacy at low dosage levels
organic black cumin (Nigella sativa) oil
turmeric (Curcuma longa) extract

*USDA Certified Organic
Take 1/4 teaspoon daily with meal or as directed by your health care professional.